Hummus Records et la Brasserie de Montbenon présentent :
THE GIANT ROBOTS
! changement de lieu !
Maison Buttin de Loës, Grandvaux
Dimanche 3 octobre 2021, 16h.

(Pass sanitaire obligatoire!)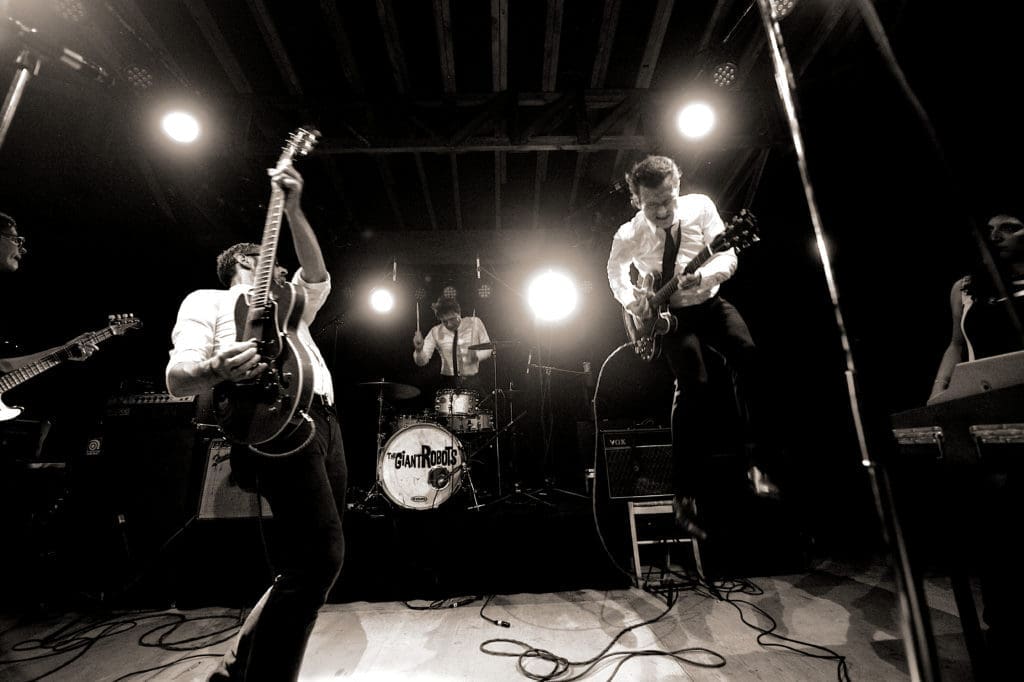 THE GIANT ROBOTS
Le tennis suisse a Roger Federer, le rock romand a « les Giant » : géniaux mais discrets, constants mais inusables, avec le même capital de sympathie herculéen mais un peu moins de pépettes sur leur compte en banque. Il était temps de leur offrir un décor digne de leur pétulant garage sixties: ce sera chose faite dans le cadre somptueux du Château Rochefort, à Allaman, où vous pourrez venir vous ébaudir de leur groove yé-yé, avec un petit godet de sang du Christ à la main
CHANGEMENT DE LIEU !
Suite à des soucis administratifs à Allaman,
le concert des Giant Robots est
déplacé à la dernière minute à
Grandvaux, à la maison Buttin-de-Loës.

Les mêmes billets restent valables, et ça va être super aussi !

Concert à l'intérieur, au sec.

Le concert a lieu à 18h, et les « portes » sont à 17h. Les personnes qui prennent un billet incluant la dégustation sont attendues à 16h tapantes pour découvrir et siroter les merveilles du Domaine ! Les autres goodies inclus dans les « packs » seront à retirer le jour du concert auprès des gentils organisateurs.

Le concert aura lieu en extérieur en cas de météo très douce, sinon dans le caveau du Domaine.

A moins d'un assouplissement des mesures sanitaires, pour l'instant, l'accès sera soumis à la présentation du pass sanitaire, afin de pouvoir garantir la tenue de l'événement. Pour toute information : renaud@hummus-records.com.s-records.com.